Article still in progress……. 🙂
I'm lucky enough to have a couple of Kawasaki z650's in my stable, the two pictured below are both 1977 B1 models, the green one was a barn find and its currently being stripped and rebuilt as a Cafe Racer, I will get round to documening it in a future article.
The gold z650 (named after my former partner, Heather) had been in need of a clutch basket service, carburetor re-tune and various minor bits and pieces replaced or repainted. Recently I completed the starter clutch repairs by tipping her on her side (minus body parts) and pulled the engine down sufficiently to get the starter clutch out and put new springs in it, you can read about it here https://sidyoung.com/z650-starter-clutch-repair/.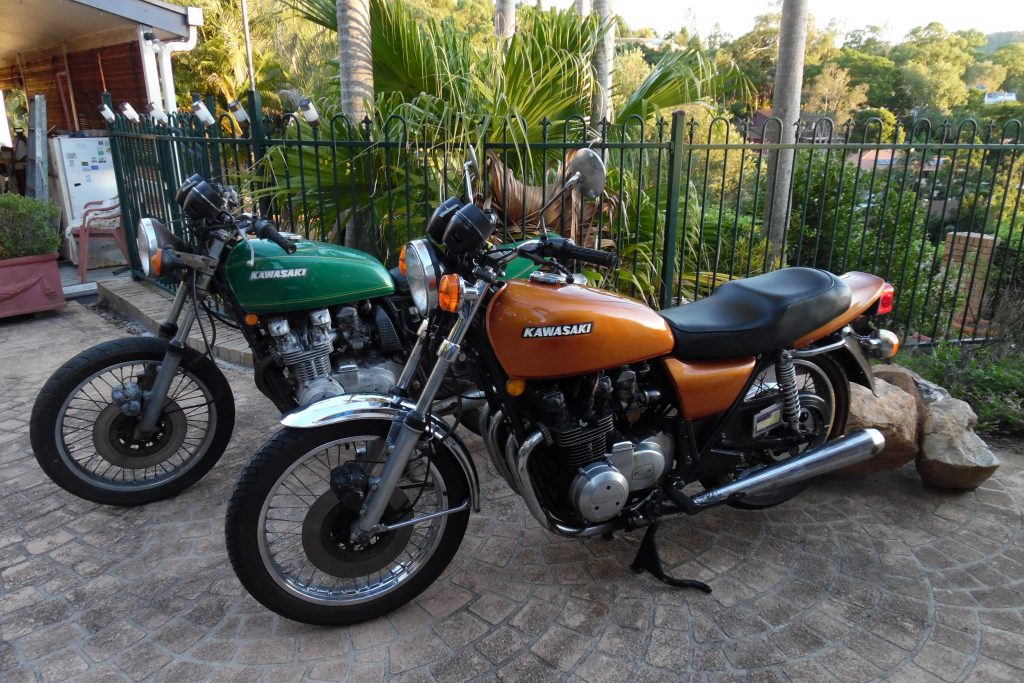 The gold z650 also needed the rubber dampeners replaced in the clutch basket, so I finally got that done and thats documented here as well, https://sidyoung.com/z650-clutch-cush-drive-replacement/
Now that those to items have been completed it needs to be reassembled with some new gaskets, filter and oil change done and a re-install of the carburettors to get it up and running. When itemize the remaining work I cam up with the following list:
Clutch Basket Cush Rubbers – DONE!
Starter Clutch repair – DONE!
Replace Headlight Trim – Purchased;
Replace Coils and leads – DONE;
Strip and service the original carbs and re-fit – In progress.
Service Exhaust system and seal gas leak.
See if the pipes can be reconditioned.
Repaint Body work.
Replace Wiring Harness – Looking for one!
The Clutch Saga
A common issue on the z650's after a few decades is the disintegration of the clutch dampening/cushion rubbers. To make matters worse they are factory riveted together as for the clutch basket I needed to get the backing plate removed so I can replace the rubbers. The plate is held in place with factory installed rivets machine pressed and the only way to remove them is to machine them out and then tap the hole to 6mm, countersink the backing plate and use countersunk set screws to put it all back together.. not a hard job bit not one you can do with a home handyman drill!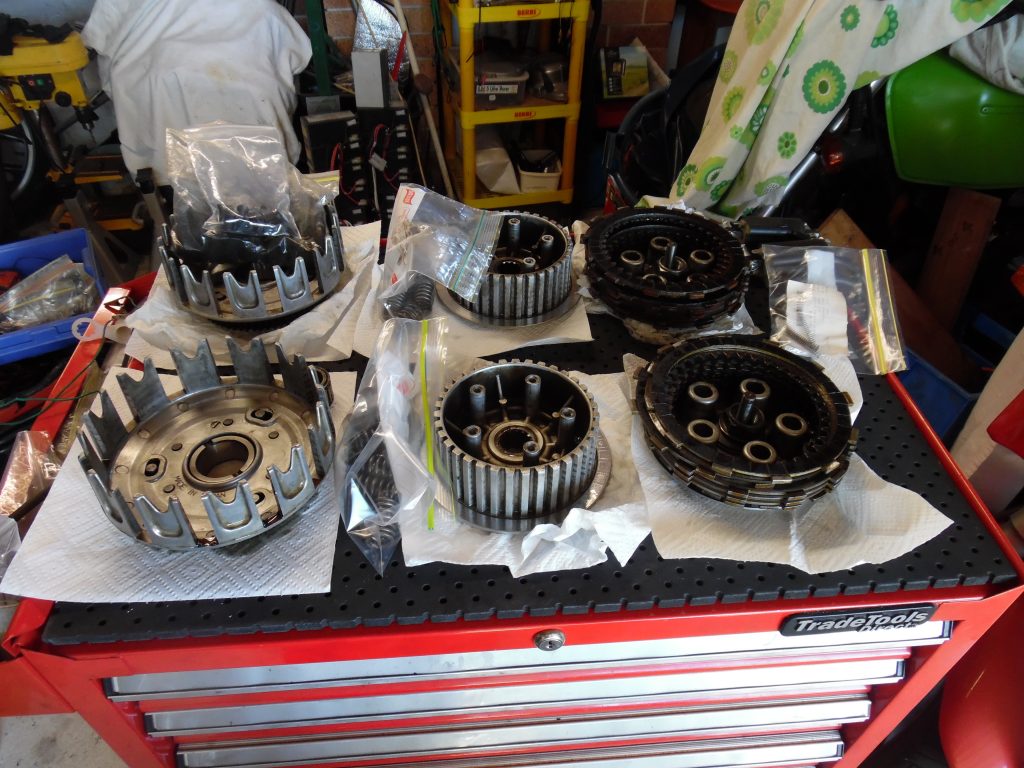 Shown are two sets of clutch baskets for the two z650's, both have worn out dampening rubbers so it make sense to get both done at the same time.
Left is the basket, middle item is the Hub and right are the plates.
More updates to come in another post.
-oOo-