I've managed to accumulate four z650's over the years, they are:
1976 z650B1 – Factory bike with Gold custom paint.
1980 kz650F1 – Factory with Red custom paint (US Import?).
SR650 – Very rusty Factory with custom fairing and paniers. (Year to be verified).
1976 z650B1 – Cafe Racer – Hacked up Factory Green Paint.
The SR650 photo will be uploaded shortly.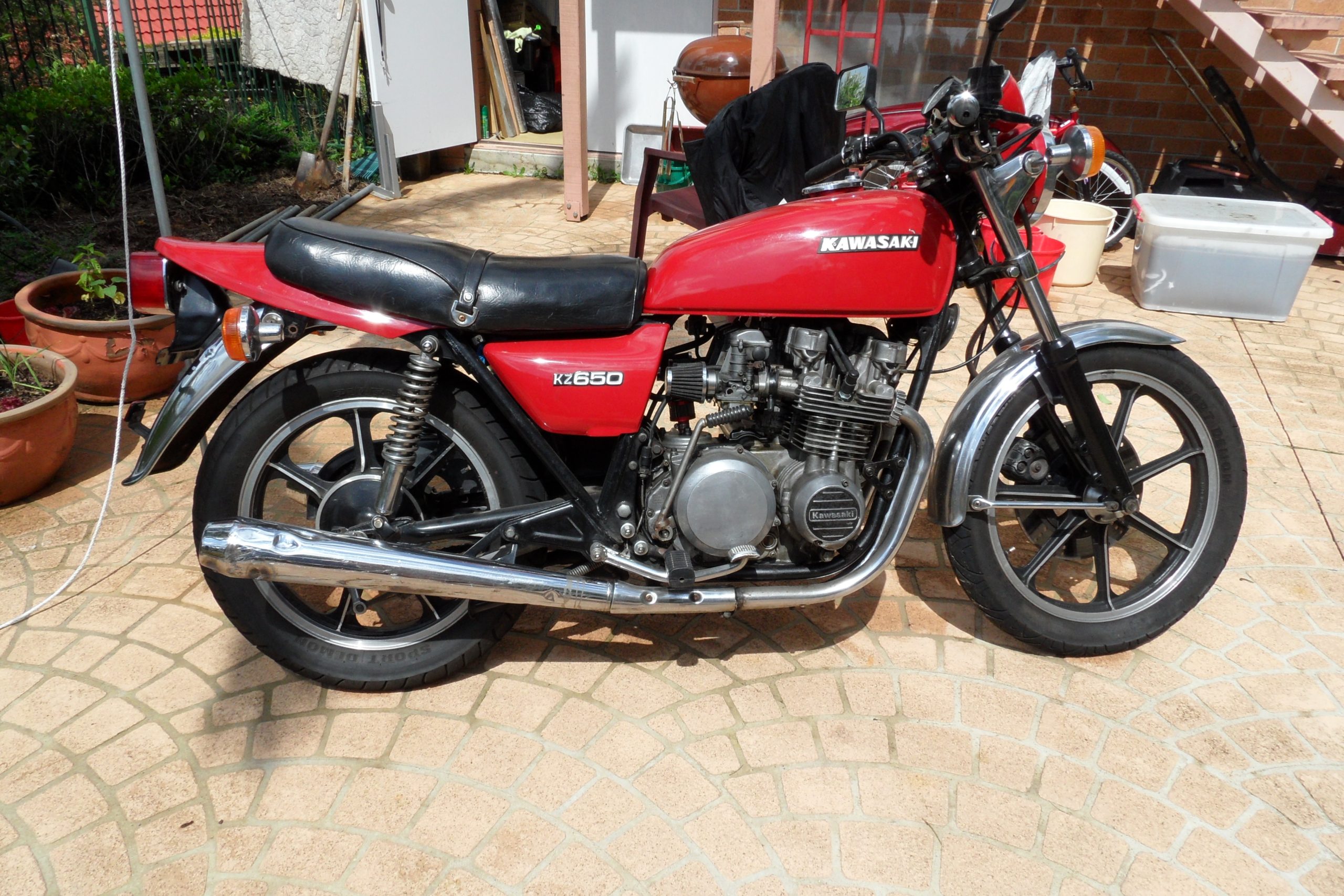 More updates are in progress on this page, links to posts and content will be added in due course.
History
The gold z650 was obtained from a lady in Toowoomba and was a non-runner. It needs a full rebuild on the engine as the compression is down otherwise its been registered and running for many years. The starter clutch was a problem but is now solved, see this post: z650 Starter Clutch Repair. I also recently rebuilt the clutch cush drive which is documented here: z650 Clutch Cush Drive Replacement.
However on re-assembly the sump now leaks, so one of the bolts may need gasket goop as its most probably sitting in an oil galley. It's a weekend project but I've had no time to do it.
The Green Cafe Racer project was obtained from a barn out past Stanthorpe and was a true "Barn Find", its a factory original with a terrible hack job on the rear end. It features in many places in my book https://www.amazon.com/Rebuild-Japanese-Motorcycles-Motorbooks-Workshop/dp/0760347972
It is now totally stripped and on the path to being rebuilt as a normally aspirated Cafe Racer.
Current State -2022
Gold z650
Awaiting sump removal, a battery and carb sync.
Red kz650 F2
No Posts Yet – Its in storage, no room to work on it. It was running great when I put it into storage.
z650-CR (Cafe Racer) Project Bike
I've been making small progress on my Cafe Racer project and have a draft Post in edit right now. As it picks ups steam, more posts will follow and will automatically list here:
SR650
Covered over and no room to work on it. Was parked under a tree for 10 years and is in a terrible state.
All related z650 Posts:
All posts on this site for any of the z650 projects will appear here: