The GPz900R is a bearing suppliers dream! With Wheel and Swingarm bearings requiring replacement at least once in each bikes lifetime.
On a GPz900R you have standard wheel bearings that Kawasaki and most bike manufacturers use and hence they are carried by virtually all quality bearing suppliers. Where the GPz90Rr differs from a lot of early bikes is the shear number of bearings in the swingarm, 10 in total!
Replacing the wheel bearings is a standard process and I have an article on it here. The swingarm is a more involved process and its documented in another article GPz900R Rear Suspension Rebuilding.
When buying Wheel and Swingarm bearings I strongly urge you to buy quality bearings for your GPz, I use the word "quality" explicitly as the Chinese also supply these bearings but the quality is not as good. I strongly urge you to use SKF, NSK, CBC or another US, Japanese or European bearing manufacturer. You may pay a few dollars more but it is worth it!. When I last purchased the front wheel bearings they were just under $10 each so its a small price to pay for something that will work perfectly for 20 years.
Wheels
Front Wheel 6302-2RSH
Rear Wheel 6303-2RSH
Sprocket Carrier 6206-2RS1
Swing Arm
4x NTN HMK2015
2x NTN HMK2025
4x NTN HMK2530
Note: The GPz900R swing arm bearings are unique and not in common stock so you may need to order them in and wait. The GPzZone in the UK has them as a stock item.
Below is a typical wheel parts diagram showing the 2 bearings, the hub also holds a spacer, make sure its installed after the FIRST bearing goes in!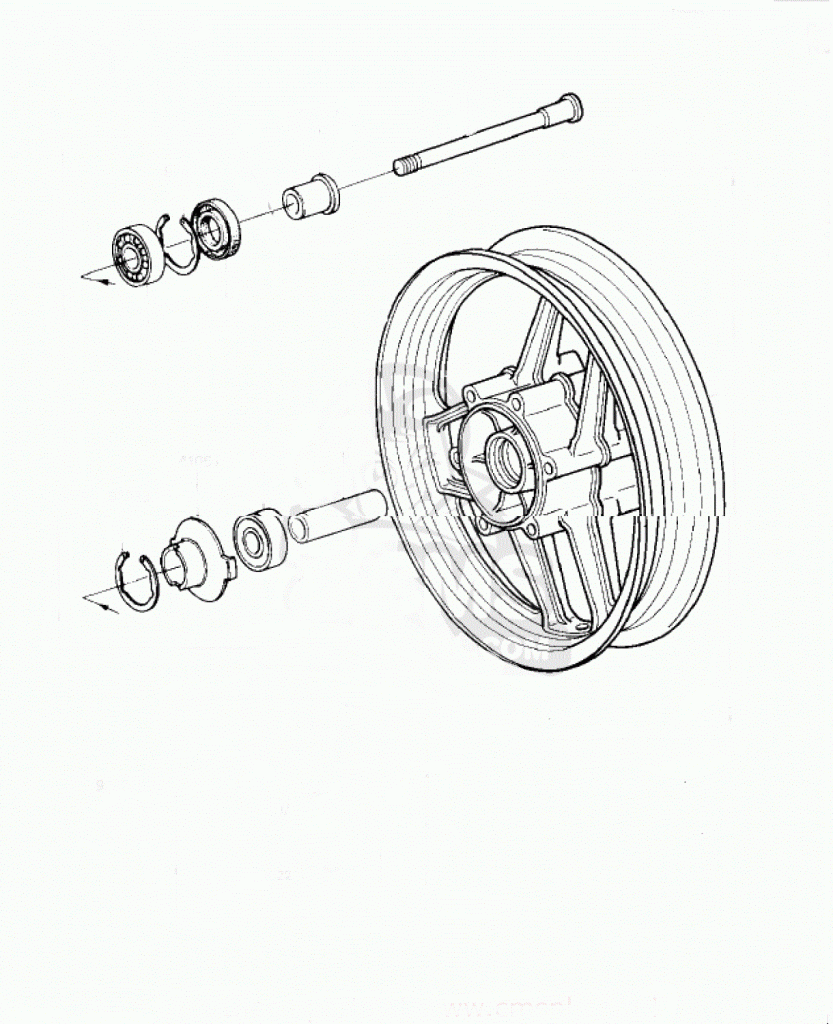 To remove them using a hammer and driver rod or use a press and push them out. To install them use a small 6 ton press if you can fit the hub in. Otherwise use a rubber mallet and a large socket and gently tap it in use  some grease to help them slide in nicely. You can follow the existing article on Replacing Wheel Bearings to guide you.
Some general bearing information is available on the SKF web site. I've used their bearings in many builds and restorations with no issues. If you look at this article on the z650 Wheel Bearings you will see that many of the older models use similar bearings.
-oOo-