In May, many Coronavirus restrictions were relaxed which has resulted in nearly every person who owns a bike hitting the roads. I live near the base of the Mount Nebo- Mt Glourious Road so each weekend there is an early morning roar of bikes heading into the mountains, its great to hear 🙂
During past 3 months I've had on and off spurts with the bikes. In June I purchased a 1991 Kawasaki Zephyr 550 (ZR550B2). Like most bikes I get it had been bastardized and needs some parts to make it rideable but I've had some ideas on building a cool street bike/Resto Mod.. its an ugly yellow color but I can change that.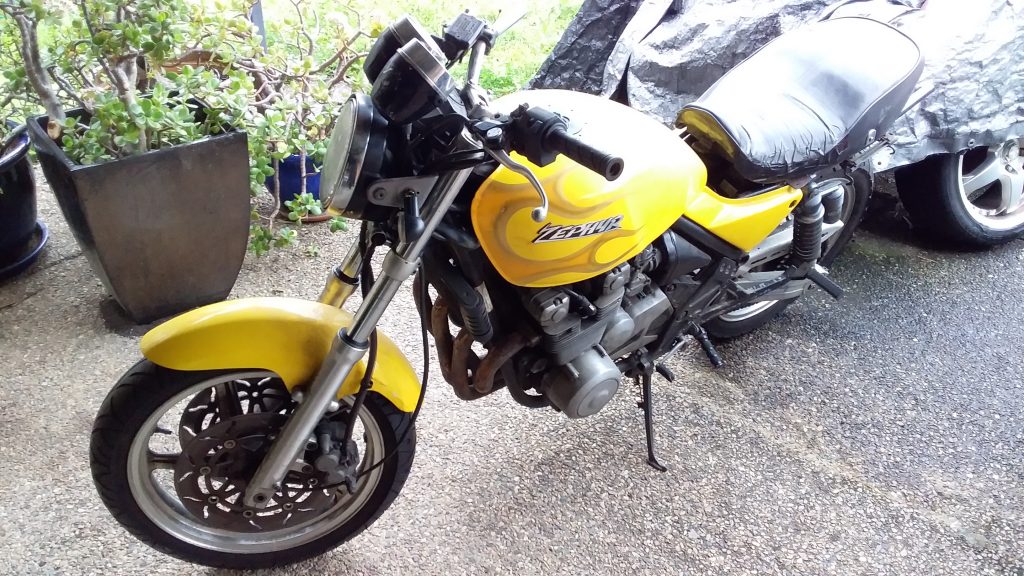 I've also used the time to clean up the garage and sort parts out. In particular building an inventory of parts needed to finish each frame of each bike. I have also accumulated a large number of parts I don't need on hand right now so these need to go into storage and this will give me some room, I have 2 tables in the garage and these need to go out to free some space.
During my last Sunday clean up I found some parts I can use in the 550, but I don't have this particular engine mount (Part #32029-1676-EZ Bracket-Engine-RR,LH,C.GRAY), it has a crack right through it, most likely from a drop. I'm going to take the engine brackets off and powder coat them satin black. Then move onto other parts.
You can read more about the Zephyr and related posts here: 1992 Zephyr 550 B2 in the "Rebuilding Blog" from the Menu bar.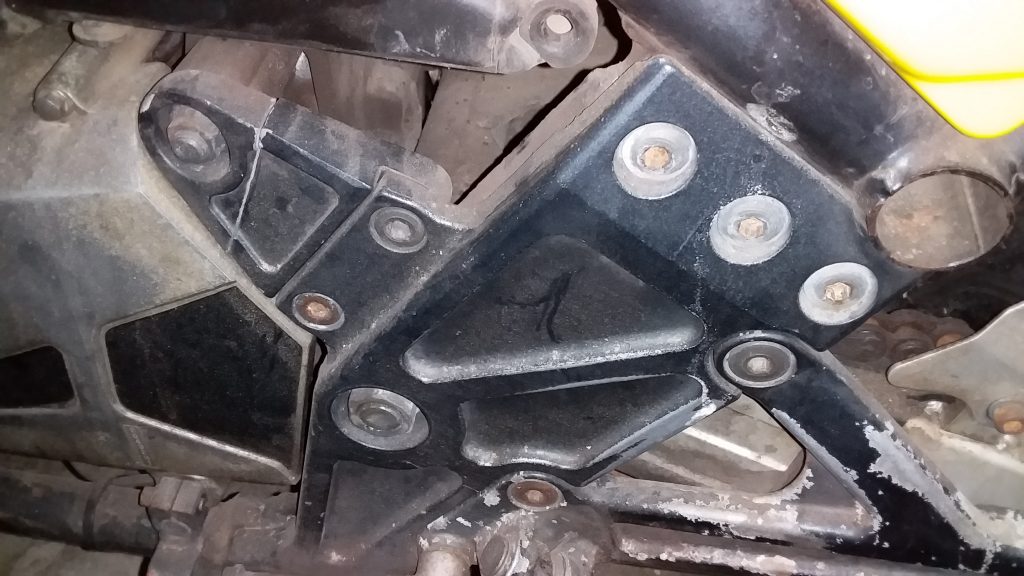 During the cleanup I started to bag a number of things that need immediate work, including some stator rewinding jobs, some powder coating and a pair of z900A4 fork legs that need to be cleaned up.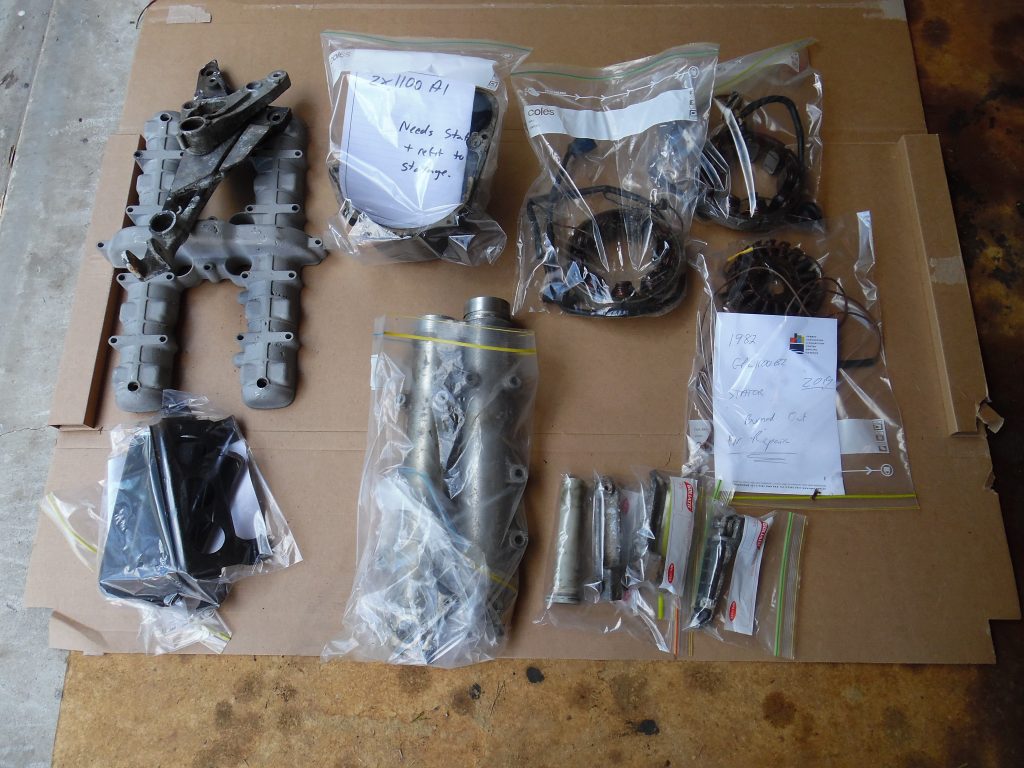 One of the caliper mounts broke on my z900A4, so I only have 1 working brake on it and have now decided to get this bike back to two calipers so a chance find about 2 years ago netted some fork legs and I've had these sitting ever since (too many projects!).
Renovating Plastic
I saw an interesting comment in one of the facebook groups on renovating plastic, it was suggested to use petroleum jelly as the plastic is made from it and it will chemically react to rejuvinate the plastic.
So I took two pieces that did not look great, the instrument cover from the 550 Zephyr and what I think is a switchgear from a 750 Zephyr. I'm going to leave it for 24, 48 and 72 hours and see the effect.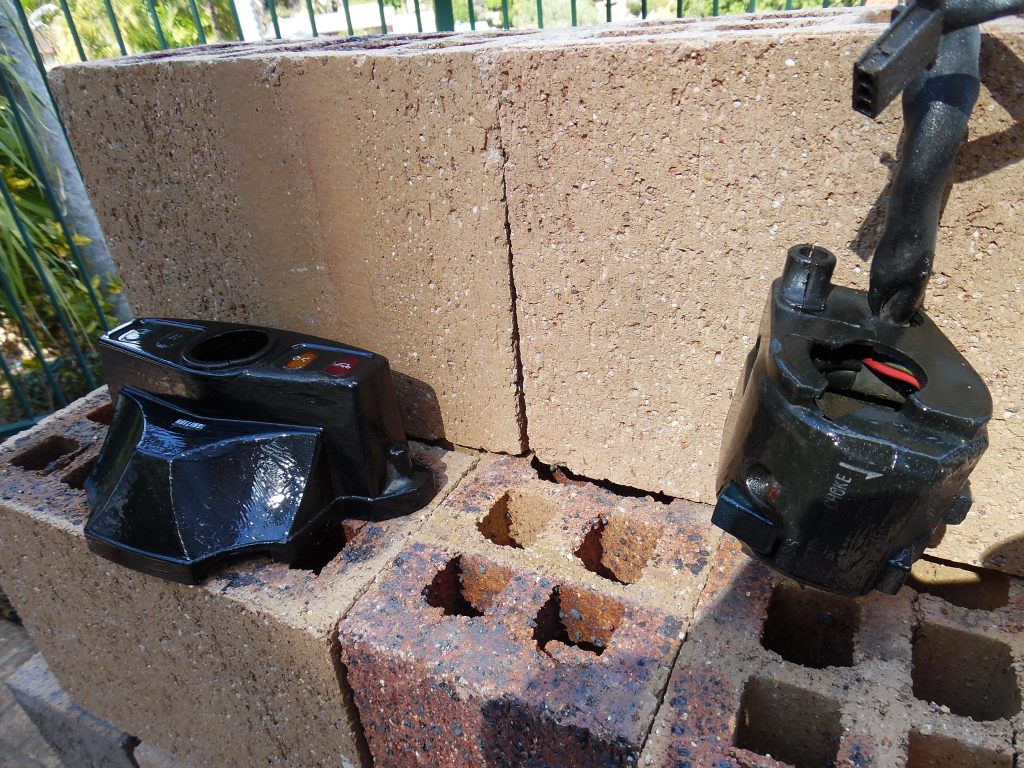 GPz1100 ELR Clone
I picked up some Molases on Sunday and I will use it to remove the rust from the GPz1100B2 tank as I have had no success finding one locally. It's going to take about 3 weeks to clean up the inside of the tank.
Z1A Restoration
The z1a work has slowly been moving ahead, I need a couple more items to complete the frame and then I will re-check the engine and install it.
That's all for now…
Posts Related to the 550 Zepher:
Posts related to the z1a:
Posts related to the GPz1100 (ELR Clone):
-oOo-